You know, I like to think my sense-of-humor is pretty decent.  I'm pretty much a wake up sun-shiny, positive, glass-is-full kinda gal.  I don't really have to work at it, luckily comes to me fairly naturally.  I'm loud and loquacious.  Double LLs, baby!  I'm not forgettable, people will usually say, "Oh, yeah, her."  That could be good, or bad… depending on if my "loudness," affects them in a negative way.
I don't have a unique name.  Back in the 70's Sandy was a popular name for girl and boy.  My mom always thought the "Y" version was the male spelling.  Remember the show FLIPPER?  Bud was inseparable from this Dolphin, and Sandy was his older brother.  Anyway, my mom changed the "Y" to an "I."  Seemed very unique that way, because I always had to correct my teachers on the spelling all through grade school.  Or if there was more than 1 Sandi, I was the one with the "I" and the other with a "Y" when returning our homework and tests.  My 6th grade teacher referred to me that way, "Sandi with an I, please answer this question." (I loved that guy)
As I grew older, I realized, there were several people with the "I" version.  Not unique at all, and then Grease was released and all the boys would sing to me like Danny Zuko, Stranded at the Drivein…"Sandy, baby..I'm in misery."
My name was getting worn out…until the mid 80's.  Something else started to happen.  I guess I talk too fast, too loud or people's listening skills are poor, or combination of it all:
Hey, Cindy (no, it's Sandi, that's okay) – got this for a while, and occasionally still do.  Sometimes those who know my mom, will call me Sue.  (that's her name)  One of her friends thought it was funny, and nick-named me Sandi-Sue.  (thankfully, that didn't
catch on with others.)
But the one I get a lot over the phone, Nancy – left me confounded.  How does Sandi sound like Nancy?  Just because of the "EE" sound? And who names their kid Nancy any more?  Seriously, I have a cousin by that name, but never had I ever come across another Nancy in my 40+ years of life.  It's not really common any more, so why does everyone on the phone assume I said, "Nancy?"
If I try to over enunciate I sound like a snake.  Ssss and ee.  Candy?  yeah.  Sounds good. There was a brief time in the 70's people were naming their kids Candace and calling them Candy for short.  I think I've only known one person by that name in 3rd grade.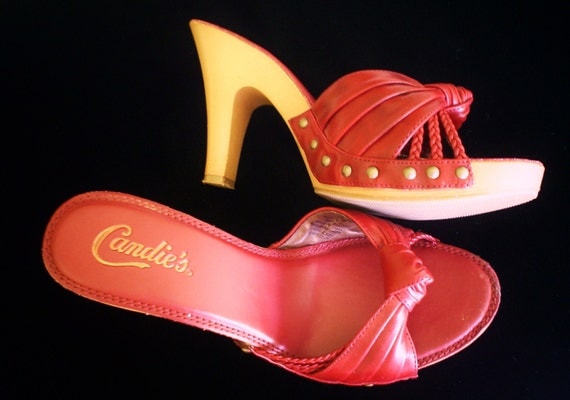 I think she later went by Candace.  By the way, around that time, the Candies shoes became popular to wear with name brand jeans (Candies with Sergio Valente, Jordache, or Bonjours)
Even in the blogging world, my friend Paul, had briefly forgotten my name in a post and I teased him mercilessly for it… yes, sorry bud to bring it up again… I forget people's names too (all the time)… it just worked in this blog post.  I don't even recall what name he used instead.  You, name caller, you. 🙂  I think it was Sara.
SO why am I bringing this up, well we are getting ready to list our condo on the market.  We just signed up with a realtor yesterday.  She's been talking to us for a while  now, and we finally decided to move forward and when I looked at the (10) documents we had to sign just to list our property, I started laughing.
Below the signature line, next to my husband's name was "Patti"
That's a new one, haven't been called Patti yet, but our realtor pointed out she got the "ee" sound right and it ended with an "I"  Seriously, in that type of business, isn't getting the home owners names accurately important?  She's lucky I have a great sense of humor.  I could have read that as a "sign," NOT to go with her, but another realtor.
Either that, or my husband has another wife.  Do I have a sister-wife I don't know anything about?