I enjoy some genre of country music, typically not the old country but newer songs and more of a country/rock or blue grass or folk.  Some were introduced to me by a family member and so I heard them countless times, which is probably why I like some of them.  However, some I discovered on my own and as I have aged, and am enjoying the stories.
KID ROOTS, in random order:
Jerry Reed- my aunt Judy liked him and would spin the records, and later her starred in the mega-hit Smokey and the Bandit (saw at the drive-in so many times!)  and he was so funny!  "Come on, Fred" (his dog)  That personality reflects in his music, so yeah, I like it.
Kenny Rogers- my aunt Judy and aunt Leona loved this guy.  He also starred as Brewster, in a cute movie, I just loved as a pre-teen, 6-pack.  "Breezy…"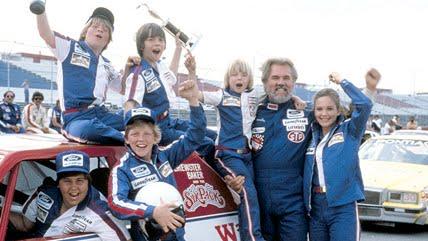 Johnny Cash- my biological father liked him.  I enjoyed his music, but not much as a kid.  I have a new appreciation for him, the original man in black- original "punk rocker"- I love his music now.  I would have liked to have seen him in concert…except he's dead, and that might be a frightening concert…then again, it would be so Cash-like.
David Allan Coe– again my Aunt Judy, but I didn't appreciate his songs until recently- well just that funny one- about not knowing his name.  You can call me Waylon Jennings, … and you don't call me Merle Haggard anymore… poor guy, people getting him confused with other singers.  hahahah! 🙂 No, I'm the 'other' guy.
Then, in my mid-20's, a good friend of mine, from Minnesota, that relocated to CA, introduced me to newer country and her favorite:
Garth Brooks–  Yup, I own a book case thingy that has all (or a lot) of his cds.
Shania Twain/ Dixie Chicks/ Taylor Swift– I discovered quickly after enjoying some Garth Brooks and some years had past.
Then I went "old school" somewhat (not too old school) and discovered I liked
Randy Travis BIG fan and was going to see him in concert, but it didn't work out…then he had that whole health scare (think a stroke) and now he's not really singing anymore.  He's the only true "twangy" voice I enjoy.  Typically, old country twang is not for me.
Hank Williams Jr.– BIG, BIG fan which surprises me.  My father loved Hank Williams…and I didn't like his music at all as a child or even now.  But his son…Pandora played him and even Hank Williams the III (he went the punk route, and then some country)  – I'm a fan!  Really enjoy the songs.
…but out of the exposure I had as a child (With Kris Kristofferson, David Allan Coe, and Johnny Cash, and Willie Nelson doing songs together)… I was never a Willie Nelson fan and my mom liked him.  None of his music has really made me feel anything.   Still doesn't.  I always inwardly groan when I hear his voice.  I remember thinking "Why did he have to have a solo part on the 'We are the World' song?
However, with that said, I can't keep Willie's "hit" from running through my mind all last night and this morning… on the road again, just can't wait to get on the road again… (ugh.)  thanks, mom  Yes, I blame this on you, or rather, my step-dad for allowing that tune to play whenever on the radio…uh.
I'm sure to be driving through country today- approximately 6.0 hours of driving from Clarkston, WA to Boise, ID.  Sooooo, this country post is appropriate.  On the road again…