Hi, all!
Guess what?  It's time to celebrate my blogs' 1-month blog-o-versary.  Two actions requested of you, my readers/pals please answer in comments.
Action 1) please peruse my site and tell me which of my blog posts this past 30 days was your favorite?
Action 2) I'm  celebrating  by inviting you all for a blog warming and virtual coffee.  If you were physically stopping by, which of my mugs would you choose? (I Have multiples -okay to choose same as others) Or let me know if you're bringing your own mug – include a pic or link to pic in the comments!  I'd like to see your personality shine!
Since I'm the host, I'll take whatever is left…
#1) Das Boot:  If you like to kick up those heels and do a little line dance, perhaps you got a little HEE HAW in ya, push back your cowboy hat use those spurs to kick butt.
#2) The Vador:  If you're evil or in a sour mood and like your coffee dark, this mug might tell us a lot about you.  You might not like talking much, just the occasional  Suuuupppperrrr – everyone likes the combination of dark and positive.  Keeps us guessing.
#3)  Pitch Perfect:  For the soccer fan, and I know my husband will be using this one.  Who doesn't like playing with balls?  But, I do request you keep your ball playing to a minimum at the table, please.
#4)  The Cat's Meow:  Who doesn't like a little tail?  Elegant and sexy.  Great for the purrrfect coffee, makes you want to rub up against everyone kinda like a lovey-drug?
#5) How's it hangin'– you just want to remain PG rated and kind of tend to your own business.  Whether that business be checking yourself out?  All Clean down there?
#6) The Rude and Crude:  So applicable at times for someone, I'm sure. By the way, Melanie- did you want to invite your upstairs neighbor?
#7) Do Anything:  You love NEED your coffee and will do anything to get it. other guests should probably come early, take all the coffee, just to see what CRAZY antics this person will go through to get some.
#8)  The Tell All:  Let's face it, sometimes it's easier to just openly state things as they are and who can blame such honesty?  Just use the bathroom on the right and we'll all use the bathroom on the left.  Open the window, please. (I'll probably use this one! tee-hee)
#9)  Death Suits you:  no need to explain. 
#10) The New Yorker  Everything is F'in amusing to you.  And if others don't see it your way, well then F'em, right?  Am I right?
#11) Musically inclined:  Okay, jazzy pants this probably right up your alley.  Take your pick, I've got 'em all.
#13)  Super Hero:  I have several versions of these.  Okay, come save the day and make this party great!
#14) Pity the Fool– for the tea drinker that wants to laugh at all of the coffee foolery.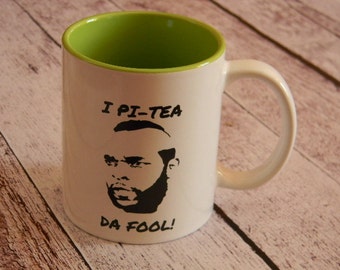 Let's PARTY- and thanks for reading!  MUAH!
Sandi